Hello Stencil Lovers!
Today our stencil hop features a design by artist
Jamie Fingal.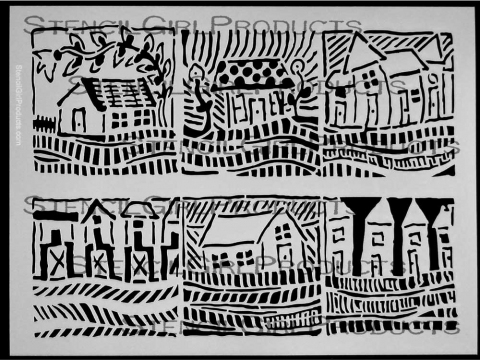 Houses Stencil L167
You can see I picked out ONE house
I wanted to use for a sewing project.
I wanted to make an embroidery stitch sampler.
I thought this design would be fun... but it seemed a little too small.
I start out by tracing it on to plain paper...
then enlarge it on my copy machine to 150%.
This makes the design area about 5" square.
Now it is the perfect size!
I decided to stitch it onto a wool base.
I make a second copy of my enlarged design
and cut it into pattern pieces.
I use a pencil to trace the basic shapes in.
I gather my supplies.
Now it just so happens I already have a good supply of what I need.
I have been doing embroidery work for years.
But its not hard to find these things.
Needles: size 1 Milliners Needle and a size 24 Chenille Needle.
Fabric: Wool or Cotton
Threads: anything goes-
Cotton Embroidery Floss
Pearl Cotton
Silk Ribbon
Metallic Threads
Here is a good source for a huge variety of great threads and notions.
These are two books I refer to often as I stitch.
I also go to YouTube to find how-to videos on different stitches.
Ready, Set, Start....
Not every time, but a lot of times,
I start out with a simple outline stitch.
I used a Closed Fly Stitch on the blue house
and Bullion Stitches in the top green strip.
The green stitch (in the middle of the above photo)
is a Rosette Chain Stitch.
One of my favorites.
The aqua colored house on the left is a combination of
a Satin Stitch and a Van Dyke Stitch.
Then I added a Chain Stitch with Silk Ribbon. (below)
It makes it look like mortar holding the bricks tight.
The mauve-y pink colored house is a Blanket Stitch
done with Silk Ribbon Thread.
The pink roof is a Herringbone Stitch.
The far right blue house is a Coral Stitch.
I am starting another row of green Bullions on the bottom.
Sometimes you need to audition the colors to figure out what goes where.
The green roof is an Open Buttonhole Filler Stitch.
The blue roof is another Rosette Chain Stitch,
tighter and smaller to densely fill the space.
Just keep filling it in.......
Different stitches or the same stitch...
It will be beautiful when you are done.
Don't forget French Knots!
Everyone loves French Knots!
I think it was the first stitch I ever learned!
Isn't the texture incredible?
And All Done!
What a fun project!
It will soon be hanging on my wall!
Happy Stitching everyone!
Remember to head on down to the next artist on the list.
And don't forget to comment on each post for more chances to win this fun stencil!
Happy Arting to you all!